Glampout: A High-Vibe, Low-Key Retreat for Women in Magical Taos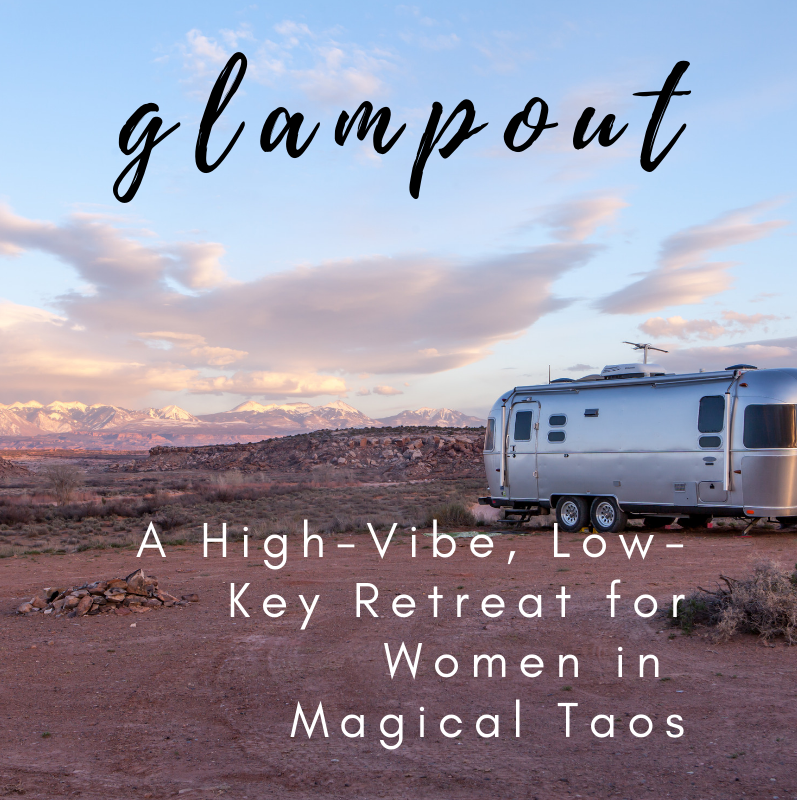 Glampout: A High-Vibe, Low-Key Retreat for Women in Magical Taos
This isn't your ordinary retreat. This is a retreat where the outdoors meets community meets movement. It's a tiny yet big getaway on the magical mesa of Taos, New Mexico: a place of opportunity and tranquility; community and solitude; outer space and inner peace; nature without the hassle.
This retreat is for you if:
You are high-vibe but like to keep things low-key.
You believe that connecting in and with nature is a key element in connecting with yourself.

You enjoy the community with and the energy of connecting with other women.

You favor a loose itinerary.
You like to camp but don't want to sacrifice comfort.
You've always wanted to stay in a vintage trailer.
You're a doer, but like someone else to do the planning.
You like options at a retreat, but would like one of your options to be "do nothing."
Wake up early with locally roasted coffee and watch the sun rise on the mesa, or grab a few more zzzzs. Read a book or enjoy a gentle outdoor yoga flow. Hike to a hot spring or go shopping in town. Take a nap or express your creativity with a guided craft project. Go to bed early or enjoy a campfire under a starry NM sky. The choices are many, but they are all yours.

You'll be glamping (fancy camping) in SANDY, a vintage 1957 Spartan Imperial Mansion at the fabulous Hotel Luna Mystica, a vintage trailer hotel and starlight campground in the vast Mesa of Taos, one of the most mystical locations on the planet.
SANDY is equipped with eight twin-sized bunks, all fitted with fine quality linens and sheets, as well as an indoor living area with mountain views. She boasts a cozy outfitted kitchen with cooktop and mini fridge and has electric wall heaters and additional space heaters to keep you warm even when the high desert air is cool outside. Outdoors, you'll have a deck/patio and outdoor fire pit, also with stunning views of the Taos mountains.
Your investment includes two nights accommodations in the glamp-orous SANDY (you'll have one twin-sized bunk), all meals included (breakfast on Saturday and Sunday, lunch on Saturday, and dinner on Saturday), a yoga flow, hot springs hike, crafting supplies, and all the connection, community, and movement that you desire.
Tickets can be purchased through Eventbrite here: https://www.eventbrite.com/e/glampout-a-high-vibe-low-key-retreat-for-women-in-magical-taos-tickets-61896703707?utm-medium=discovery&utm-campaign=social&utm-content=attendeeshare&aff=escb&utm-source=cp&utm-term=listing
sold out